EloPin 32-GS (EloPin 03-145 GS) - Naming convention and development update
In order to minimize the risk of confusion, the EloPin press-fit areas of the GS family were renamed. The fields of application normally differ from those of traditional press-fit areas, so that the GS-family should not be considered as a replacement for them. EloPin 03-145 GS becomes:
EloPin 32-GS
First test results showed good performance in all mechanical quality criteria. The elasticity of the press-fit area is very good, which has a positive influence on the reliability under external stress.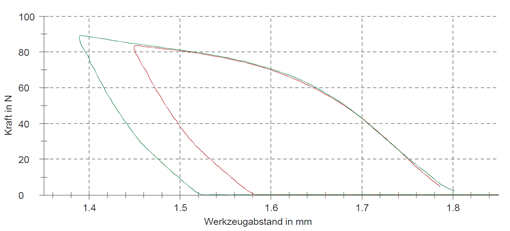 The press-in forces of 50-70N are in the same range as those of the EloPin 06-10 (0.6mm material thickness, 1.0mm PTH diameter). The retention forces were measured with an average of 30N and are therefore in the safe functional range, despite the thin material thickness of 0.32mm.
The tested contacts were manufactured in a close-to-series-production sample tool from a commercially available copper alloy with good spring properties. Due to the hot-dip tinning of the strip, no subsequent electroplating was necessary.
The development is continued on a project-specific basis, because the press-fit area is usually manufactured on the same strip of another application with spring-properties and a compromise in terms of the base material needs to be found individually.